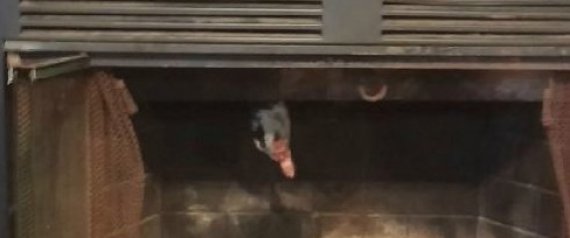 Firefighters in Louisiana spent two hours freeing a stuck duck after it somehow got trapped in a fireplace on April, 21st.
Only the ducks head could clearly be seen sticking out of the bottom of the open fireplace. Firefighters rushed to dismantle parts the chimney in order to free the bird, which was largely unharmed by the entire ordeal.
It's unclear how the duck was able to lodge itself in the chimney according to several sources; however this ordeal illustrates how important it is to have your chimney capped. With the weather warming up, animals are on the move, and a number of them might try to make your fireplace, their home.
Luckily this type of extreme situation is preventable with regular inspections, as well as the installation of a chimney cap. Having your chimney capped will make it harder for animals and debris to enter your chimney.
Black Goose Chimney offers many kind of chimney caps. Most of our single flue chimney caps can be secured directly to the flue liner. If the flue liner does not extend high enough, we can use stainless steel top mounting brackets securing to the mortar crown.  Our standard multi-flue chimney caps are designed with a swing-tab mounting strip for securing to the mortar crown. All the chimney caps come with ¾" screen mesh which prevents critters from getting into your chimney system.
If you're interested, call us for a quote today!