Did you know that dryer vents are a leading cause of residential fires in the United States? According to the National Fire Protection Association, dryer fires cause an estimated $200 million in property damage each year. The good news is that this problem can easily be avoided by having your dryer vent professionally inspected and cleaned on a regular basis. In this post, we will discuss risk factors for dryer vent fires, how to tell if you are due for an inspection and cleaning, and simple tips to make sure your dryer is running as safely and efficiently as possible! Read on to learn more about dryer exhaust safety.
To begin, let's review the basic parts of your dryer exhaust system. The part you are likely most familiar with is your dryer itself, an electric or gas appliance that heats up and forces air through the drum to dry your clothes. As fabric is tumbled in the dryer, it sheds small fibers which become trapped in the dryer vent. The first line of defense is your lint filter, the part that you pull out and clean lint from – and if you are not doing this every time you dry a load of clothes, you should get in the habit! A full lint trap reduces the airflow and efficiency of the dryer, making you run the load two or three times before it is fully dry.
After the air passes through the lint trap, it is blown into the tubing that you see come out of the back or side of the dryer itself. This is called the transition duct and usually connects to a different pipe as it passes through the wall or floor. This second pipe is called the vent pipe or exhaust duct and transports the air from the transition duct to where it vents outside the home, usually from a covered termination on an exterior wall. Your exhaust duct may be made of aluminum foil, rigid or semi-rigid metal, plastic, or vinyl. All of these materials have their benefits and drawbacks, but the safest option is the one that has the least risk of lint buildup in interior nooks and crannies and the least likelihood of damage during cleaning. The only material that meets these standards and is approved and required by building codes is rigid metal. All the other materials are corrugated, tend to trap lint, and may be torn during sweeping.
We are used to seeing lint just in the filter, but small particles pass through and get caught in the dryer exhaust itself. Over time, this lint can build up and create a blockage in the vent. This blockage not only reduces the efficiency of your dryer, but increases your risk of dryer vent fires. When flammable material, such as dryer lint, is heated and cooled repeatedly, it undergoes a process called pyrolysis which drastically lowers the ignition point – the temperature at which something will catch fire. That means that even without a spark, dry flammable material in your dryer vent may ignite just from the high temperatures at which your dryer functions.
As lint escapes the trap and gets caught in the duct, it can also make its way into other parts of the dryer such as the heating element. This cannot be seen by just inspecting what is visible when looking at your dryer from the outside – that's why it's so important to have your dryer inspected by an appliance repair professional.
But how do you know when it is time to have someone look things over, and what will they be doing that you can't do yourself? According to the National Fire Protection Association, your dryer vent inspection should be done at least once a year, but if you dry multiple loads of laundry each day or notice any of the following signs, it's time to call for help:
Your clothes are taking longer than usual to dry or you have to run your clothes for more than one cycle. A buildup of lint can prevent air from flowing properly, trapping moisture in your clothes even while the dryer is running and causing clothes to need to be cycled through two and three times. Not only is this hard on your clothes, but it runs up your energy bill!
Your dryer is hot to the touch after running or your laundry room seems unusually warm. Again, if the air cannot flow properly through the vent to the outside, the heat it carries will build up in the room or in the appliance itself. Dryer overheating is also dangerous if there is any lint buildup inside the dryer itself, as lint is very flammable and can ignite without a spark.
Your clothes smell musty after being removed from the dryer. The moisture that is not being vented to outside the home will remain in your clothes, causing a mildew or musty smell in clothes that are freshly washed. You also may note higher levels of humidity in your laundry area.
Lint is built up on the termination/vent hood on the exterior of your home. The place where the air comes out of the house to the outside, usually plastic that has either flaps or a grid-style pest guard, is called the termination or vent hood. If you can see lint built up on the flaps or the grid, it usually means that there is also a dangerous buildup inside the duct.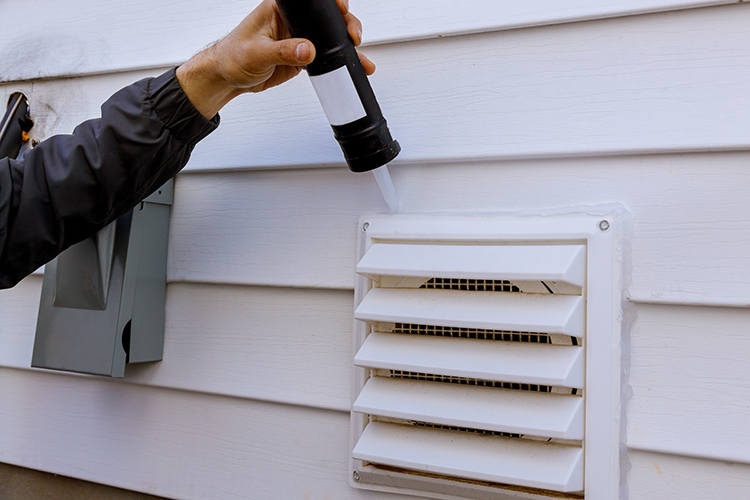 If you see any of the above signs, do not hesitate to call us to schedule an inspection of your dryer vent system. We start by taking a reading of back pressure behind the dryer using a magnahelic gage and taking a reading of air flow velocity at the termination using a vane anemometer. These two reading will show if a sweeping is needed. A second set of reading will be taken after the sweeping. This will show you before and after numbers, plus the second set of readings will act as a baseline for your next annual inspection.
The Chimney Safety Institute of America (CSIA) administers the oldest and most widely recognized certification program – Certified Dryer Exhaust Technician (C-DET). More information is available at www.DryerSafety.org.
Residential clothes dryers cause a staggering 16,000 house fires every year, and these are just the reported ones! The leading cause of dryer fires is a failure to clean the dryer and vent properly. Don't become a statistic – a simple inspection is a crucial step to keeping you and your loved ones safe.
What can you do to keep your dryer running in top shape in between inspections? The first and easiest is to always keep the lint filter clean and clear. Emptying lint out of the filter after each load is an important step, but did you know that dryer sheets and fabric softeners can leave invisible residue on the screen? An easy way to check this is to take your lint filter to the sink and try to run water through it. If the water runs through easily, your filter is still in good shape! If it beads up on the screen or seeps through, scrub your filter with dish soap and a brush to remove the buildup.
It is also important to not overload your dryer. A load that is too big will not only tax the dryer and take longer to get dry, but will also deposit more lint than normal in the filter. This can lead to lint escaping the filter and building up in the duct and in the dryer itself.
Check your vent hood periodically for lint buildup, and check while the dryer is running to make sure that there is good, steady airflow coming from the vent. Low, slow, or unsteady airflow may be a sign of a blocked duct.
Don't store anything on top of the dryer itself; items on top of the dryer can trap heat, causing buildup inside the appliance and a higher risk of any lint inside the dryer igniting.
And finally, do not run the dryer while you are not home or while you are asleep. If something in the dryer does ignite, minutes can make a difference between a fire that is controllable and one that will destroy your home. Always run your dryer when you are awake and home to keep an eye on your laundry!
At Black Goose Chimney, we understand the importance of dryer vent safety and are dedicated to helping keep your home safe from fire hazards. All our crew leaders are C-DET Certified. We offer dryer vent inspections, sweeping, and repair services to homeowners. Contact us today to schedule your inspection!