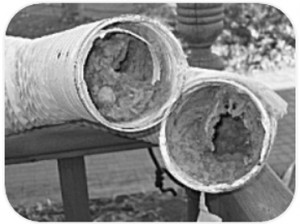 The National Fire Protection Association (NFPA) reports that in 2010-2014, U.S. fire departments responded to an average of 14,373 home structure fires involving clothes dryers each year. These fires caused annual averages of 13 civilian deaths, 444 civilian injuries, and $238 million in direct property damage. Failure to properly clean the dryer is the leading cause of these dryer related fires.
How Does Lint Build Up in The Vent?
When your laundry is washed and dried, small particles of fiber are released from your clothing. These particles are what we call lint. While each dryer has a small tray built to catch the lint and other debris released in each dryer cycle, this cannot trap every piece.
What's the Difference Between A Dryer Vent Pipe and A Lint Trap?
Lint Trap
Your lint trap is the small piece of mesh found in an accessible area of your clothes dryer (often on the top of your unit or just inside the door). This trap exists to collect the majority of the lint released in each dryer cycle, and prevent build up in your vent pipe. Cleaning this trap out after EVERY USE ensures it is performing its job properly, and helps to prevent fires. A build up of lint in this trap is a dangerous potential fire hazard.
Vent Pipe
The vent pipe, also known as the dryer exhaust pipe, leads from the back of the dryer through your wall and to the outside of your house. This pipe serves to vent the heat produced in your dryer safely out of your home. As you run cycles in your dryer, lint often slips past the lint trap and begins to build up in your vent pipe. This happens even when you clean your lint trap and use your dryer as recommended. This lint build-up can create a blockage in the vent, preventing heat from being properly ventilated and creates a major fire hazard in your home.
The US. Fire Administration recommends that you hire a professional, certified technician to clean your vent pipe every 3-12 months depending on dryer use. If your family runs multiple loads of laundry a day, or live in a home with a lot of pet hair, you may be closer to the 3-month end of this spectrum.
How Can I Tell if My Dryer Vent Needs Maintenance?
1. Longer Drying Time
Longer drying time is usually one of the first signs that you're due for dryer vent service. Having a particularly full or heavy load of laundry (like blankets or towels) can cause longer drying times for many machines, but if you notice your dryer taking over an hour, even for regular loads, you are probably due for a vent pipe cleaning.
2. Dryer Exterior is Hot
When your dryer vent builds up with lint, it blocks the exhaust tube which usually allows hot air out of your machine. Your dryer will be working extra hard to dry the clothes and can compensate by running with the heating element on stronger. This can cause the dryer and the clothes to be extremely hot to the touch and, if not corrected, can wear out your heating element.
3. Burning Smell When Dryer is Running
As we've discussed, a blocked exhaust tube traps excess heat inside your machine. Your dryer will become hot on the outside, but the excess heat also travels to the clogged vent. Overheating lint, especially a tube full of it, is a major fire hazard. Lint is extremely flammable, and a burning smell is a red flag. If you notice a burning smell, you should immediately discontinue the use of your dryer until the vent has been cleaned.
Tips for Keeping Your Vent Clear
While it is recommended that you have a certified technician service your dryer vent every 3-12 months, there are a few things you can do to help prevent lint build up in between cleanings.
Make sure you are cleaning the lint trap out thoroughly between dryer uses.
When you notice lint building up around the lint trap, use the hose on your vacuum to suck up any visible clumps.
If you feel comfortable doing so, you can disconnect the vent from the back of your dryer, and vacuum up any visible lint here as well.
When washing lint-prone objects such as flannel sheets or pet beds, consider laying them outside to dry if possible. You can also wash these items on a gentler setting to release fewer fibers.
Be aware that some dryer sheets can leave a residue behind, which can build up over time on your lint trap. Keep an eye out for this if you use dryer sheets, and wash the link trap with warm soapy water if necessary.
Call Black Goose Chimney Today to Schedule Your Dryer Vent Cleaning
If you've noticed any of these warning signs, or if your dryer vent is due for cleaning, call the expert technicians at Black Goose Chimney. Our technicians are certified by the Chimney Safety Institute of America to work on dryer vents. We will come out to take a reading at the vent opening on the exterior of your home. By using a vane anemometer, we will measure and document the temperature and airflow speed. After the vent has been cleaned, another reading is taken to check the numbers and ensure the vent has been fully cleared.
Call our office today at (757) 596-2298, or contact us now to schedule your appointment!