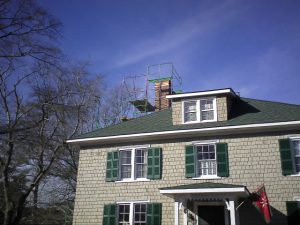 Water Repellent
Leaking chimneys may need to be treated with water repellent in addition to re-pointing failed and/or deteriorated mortar joints on the exterior of the chimney. Sometimes re-pointing alone does not solve the water entry problem, the masonry and brickwork can absorb water like a sponge. To test for this we perform a Masonry Absorption Test (MAT) which measures the rate of absorption. Efflorescence stains or whiting on the exterior of masonry is another problem caused by water penetration. Some areas of concern with water entry include water stains on the ceiling and walls, rusted fireplace accessories and glass doors, deteriorated masonry or metal firebox assemblies, deteriorated exterior mortar, chimney settlement, and more.
Re-pointing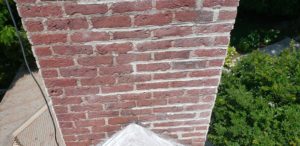 Re-pointing, also known as tuck-pointing, is a method of replacing cracked, failed, or deteriorated mortar joints between brickwork. The joint is cut out using either a grinder or chisels to an appropriate depth; the joint is packed with fresh mortar and struck with a similar style striking tool. Re-pointing your chimney will give it a longer life and enhance its appearance. A large amount of the masonry found in our service area is Portland based mortar. We do see lime-based mortar as well. Lime-based mortar can be re-pointed using a different method. For more information on re-pointing lime-based mortar please visit our historic restorations page.
Spalling
Spalling is a common issue that can plague any type of brickwork from masonry chimneys to retaining walls and more. It is easily noticeable when small cracks begin to lead to bigger cracks as the brick surface deteriorates. This can happen in brick that is not properly treated or installed. Spalling can also occur over time as brick ages naturally. Bricks of lighter color will often absorb more moisture, and will be affected by spalling more readily than darker counterparts.
This often occurs when indoor bricks are used instead of outdoor ones. Indoor bricks are not as weather resistant as their outdoor counterparts and absorb moisture more readily. Constant absorption, freezing, and thawing within the brick caused cracking and deterioration.
The only fix is to remove damaged bricks and replace them with proper outdoor rated materials.
Black Goose Chimney is certified in various aspects of chimney inspection, sweeping, and repair. You can trust our work and use your fireplace or wood stove with peace of mind when we leave. If you need chimney repair services, call (757) 596-2298.