Top 5 Common Chimney Repairs
Chimneys are great for producing warmth and enhancing ambiance in a room. They are a good way to heat your home and reduce utility costs if taken care of through regular maintenance and repairs. Chimneys can be very dangerous, if neglected. There are more than 25,000 chimney fires every year resulting in $125 million in property damage. The good news is that you can reduce the possibility of having a chimney fire. The challenge is that with maintenance and chimney repairs most people have no idea where to start.
Below is a list of common chimney repairs and what each entails. This "crash course" in chimneys will help you determine what you can do to get yours in shape. These tips will ensure that your chimney is functioning as it should and that you and your family are safe.
Chimney Basics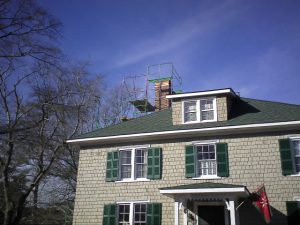 Even though a chimney may seem like a simple design that dates back centuries, there are several different types.
The majority of chimneys are brick, which in general is the safest kind. While formed by masonry on the outside, they often (though not always) have a terra cotta flue liner installed that helps with venting.
There are also factory-built or prefabricated (prefab) chimneys. These consist of a double-wall metal flue pipe and are usually inside a chimney covered with siding.
Chimney Repairs
Here are five of the most common types of chimney repairs. The list proceeds from least to most complex and challenging to carry out.
Sweeping
One of the main things you can do to keep it working like new is to have your chimney swept regularly. It is an opportunity to remove soot and any obstructions, like bird nests, that have built up over the spring and summer months.
How often you clean a chimney will depend on how much you use it, but a good rule-of-thumb would be about once a year. Another way to do periodical checks for buildup is to scratch the inside of your chimney wall. If there is more than ⅛ of an inch buildup of soot, it needs professional sweeping.
Sweeping is one of the best things you can do to prevent chimney fires since one of the main culprits is the buildup of creosote. This substance is a byproduct of smoke, vapor, and wood remnants that condense and accumulate inside chimney walls. If left unattended inside the chimney flue, the buildup can ignite.
Since creosote accumulates faster in cooler flues, one thing you can do to prevent it is to burn seasoned hardwood that has seasoned or dried. If you have a wood moisture meter, you want the moisture content to be between 15 and 20 percent.
Basic Updates
If you don't already have a chimney cap installed, or if yours has become damaged, this is worth addressing. It is a minor update or repair that can help keep leaves, debris, and animals out of your chimney.
Caps also help keep out the rain that can corrode the inside of the chimney. They protect the outside of the chimney as well, slowing decay and brick spalling (which we will discuss later). Chimney caps have a wide range in prices. Basic galvanized metal ones can cost as little as $50, but will rust and eventually fail. More decorative ones in stainless steel or copper can cost several hundred dollars or more.
Dampers are metal doors that allow you to close off the chimney when it is not in use. They keep outside air from entering your home through the chimney. It is not uncommon to find older homes that lack a damper. If your chimney does not have one, or if yours has rusted or will not close completely, you should reach out to a chimney repair service. Having a functioning damper can save you a lot in energy costs and help you better regulate the temperature of the room.
There are many different types of dampers including top-sealing and "throat" dampers which close off the flue at different places. Our trained technicians will be able to explain the different options and how each might benefit your home.
Most prefab chimneys have a chase cover or top flashing. This is a metal pan that covers the entire chimney top and comes down over the sides a few inches. It was installed when the house was built using builders-grade galvanized sheet metal. The metal tends to rust over the years and eventually will need to be replaced. A good rule of thumb is to replace the chase cover when replacing your roof. Most roofers do not offer this service, but it is a common repair for a chimney professional. You can even upgrade to stainless steel that should last a lifetime.
Repointing
The mortar joints in a chimney can begin to decay over time and create spaces between the bricks. These issues become worse in harsher climates or ones where there are frequent dramatic shifts in temperature. Chimney repointing is the process of patching up these areas. It is useful in chimneys where the bricks are still in good shape, but the mortar holding them together is not.
The process involves grinding out the existing mortar and replacing it with fresh mortar. The procedure is important to preserve the structural integrity of the chimney. It also can help stave off things like mold and mildew that can occupy cracks and crevices and lead to a faulty chimney.
Brick Repair
Brick chimneys can stand for decades or even centuries, but nothing lasts forever, including the bricks themselves. A "spalling" brick is one where the face has become worn or dilapidated. In advanced stages, bricks begin to flake, crack or crumble.
This condition can be due to poor construction, improper brick choice, or water intrusion. It most often results from moisture getting trapped in bricks' pores, then freezing. Water expands when it freezes and will push against the surfaces constricting it, causing damage to the brick.
Problems like these are most common near the crown or the top of the chimney but can happen anywhere. The speed with which spalling happens depends on the climate where you live. Addressing this early on is the best course of action since the issue will not correct itself. It is possible to treat bricks having minor damage with water repellent. Also, applying a masonry water repellent can prevent further erosion and decay.
Chimney Relining
Most chimneys have some type of lining, which is often made from metal or clay tile. Older chimneys may not have liners. Building codes today require chimneys to have a liner.
Chimney liners help create a direct path for smoke, heat, and gases to escape. This includes carbon monoxide, which releases from wood and gas logs and can be dangerous (even fatal) to pets and humans that breathe it in. A chimney liner also helps protect the inside of your chimney. It shields the main structure from heat, soot, and other buildup produced by burning wood.
Another condition known as "shaling" or "flaking" is where pieces of the interior of the chimney have broken off. It can be a minor problem but could also be a sign of bigger issues below the surface.
If you have flue shaling or flaking, you might notice slices or segments piling up in the hearth or thimble. Otherwise, since the damage is on the inside of the chimney, these problems can be difficult to detect. Many repair companies use special cameras to determine the condition of the flue during routine inspections.
Chimney relining and flue resurfacing are complex processes. How involved depends on the condition and the layout of your chimney. One big plus to performing this procedure is that it is an opportunity to re-insulate your chimney and improve performance.
Chimney Rebuilding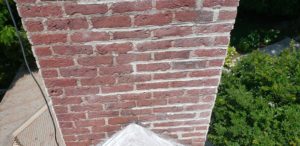 When chimney restoration using the procedures described above, is insufficient for addressing the problems, a rebuild may be necessary. This is true for compromised flues, severely spalling bricks, other structural issues.
The good news is that many different options do not entail completely rebuilding the entire chimney. Our technicians may be able to do a partial chimney rebuild that focuses on problematic areas.
For instance, often, chimneys experience wear and tear on the exterior section on top of the roof, while the rest of the chimney within your home's structure is intact. In these cases, a "roofline up" rebuild may be enough. It is more involved than a repointing but still only focuses on the area of the chimney that needs attention.
A Note on Maintenance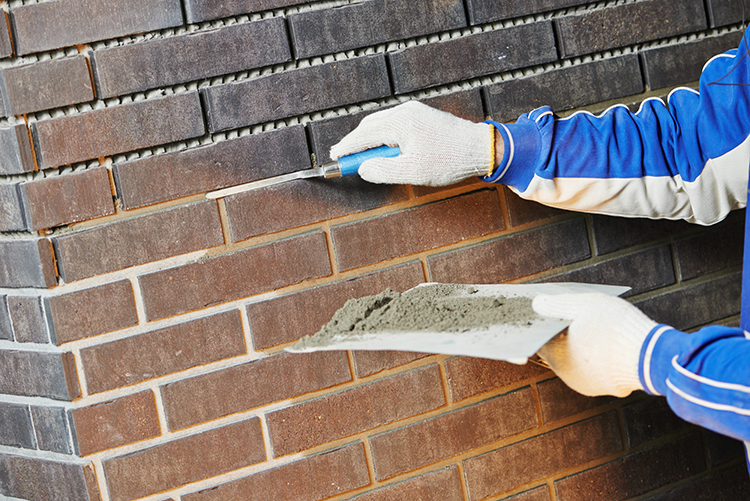 Maintenance is the best thing you can do to avoid, or at least minimize, the need for repairs. An annual chimney inspection is a good way to stay on top of things and it can be combined with yearly cleaning. It allows us to look at all aspects of the chimney, including its structural integrity.
Inspections can cost between $100 and $350, depending on where you live and the complexity of your chimney. It is an inexpensive way to do preventative maintenance on your chimney and catch minor issues before they become major ones.
Line Up Chimney Repair Service Today
Now that you have an idea about some of the most common chimney repairs, you know what it takes to get yours in shape. Doing so will give you the peace of mind that your chimney is working well and that you have minimized the possibility of fire in your home.
Black Goose is a premier chimney service that provides everything from annual inspections and sweepings to chimney restoration. We can handle everything from routine maintenance to complete chimney rebuilds. Reach out to us today to schedule an appointment.