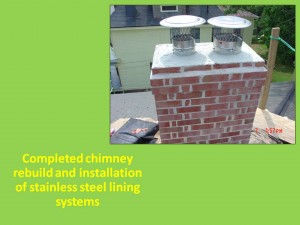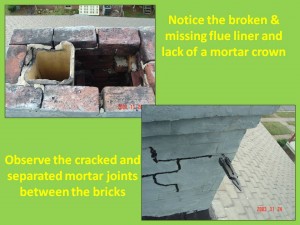 We offer three types of liners for chimney relining. Stainless steel liners are often a good choice for furnace or boilers flues. HomeSaver is a brand of stainless steel liner that is unsurpassed in strength and protection.
A cast in-place liner is a slurry mix of a special formulated masonry product. The mix flows into the nooks and crannies and adds a tremendous amount of structural integrity to the chimney. Removal of the old lining system being made of a vitreous clay tile or terra cotta liner is needed. Cast in-place liners are typically installed in various sizes, but only two shapes either round or oval. We use the flue ratios in accordance to the International Residential Code for sizing fireplace flues and the National Gas Code for sizing heating appliances. Golden Flue has perfected their mixture to create the best liner in heat insulation value.
The third type of liner is HeatShield Cerfractory Flue Sealant. The application method of HeatShield is known as slip-casting. With HeatShield you can either repair mortar joints and minor defects, or a total reline of the chimney!