If you suspect a critter might have taken up residence in your chimney, the first thing to do is to seal any access they may have to your house. This can be easily done by placing a board in front of your fireplace, and attaching it at the sides to ensure there is no place to squeeze through. While this step isn't essential, it can offer peace of mind to many homeowners, especially in homes with young children. Next is to contact a professional for animal removal.
You may have heard or read online that you can "smoke out" animals by lighting a fire, but it is very important that you NEVER do this. Attempting to remove animals like this is not only inhumane (in some cases illegal), but can cause serious damage to your chimney flue.
Removing Birds from Your Chimney, Kitchen, or Dryer Vent
Birds are one of the most common animals you may find in your chimney. While some may have flown in and found themselves trapped, many choose to set up residence due to the warmth and protection. At Black Goose Chimney we are able to remove birds, nests, and any offspring with care.
There are some species that we cannot remove from a flue, the most common is the Chimney Swift. This species is a federally protected under the Federal Migratory Bird Treaty Act, meaning it is prohibited to kill, capture, sell, trade, and transport protected migratory bird species without prior authorization by the Department of Interior U.S. Fish and Wildlife Service.
You may also discover a bird who has built their nest in your exterior dryer vent. Just give Black Goose Chimney a call, and we'll be out as soon as possible to humanely remove the nest and clean out your dryer vent. If nesting birds in your dryer vent is a routine problem, we can also install specially designed vent covers.
Dealing with Raccoons or Squirrels in Your Chimney
Similar to many birds, momma raccoons see your chimney as a safe, warm location for to raise her babies. The smoke shelf in your chimney offers her an ideal spot for cuddling and nursing her young. Understandably, these mothers are extremely protective of their young, and can be aggressive to anyone or anything they perceive as a threat. Raccoons frequently carry rabies, worms, fleas, and lice, so it's best to leave removal to the professionals at Black Goose Chimney. When our team removes any babies from the chimney, they will wear heavy gloves in order to protect their own safety, as well as to ensure they do not leave their scent on the babies. The babies will then be placed in a bucket or box so that their mother raccoon can come and retrieve them safely.
Squirrels are luckily much easier to remove from a chimney. Since they are excellent climbers, we are often able to remove them by lowering a secured rope down the flue and allowing them to climb out. While this works in many situations, it is not a universal fix. If manual removal is necessary, the team at Black Goose Chimney will do so with the utmost care for both the animal and your home.
How to Prevent a Chimney Pest Problem
The easiest way to prevent critters from making a home in your chimney is to have a chimney cap professionally installed. The cap serves as a first line of defense against pests, and prevents other debris from making their way into your chimney system. At Black Goose Chimney we offer copper, stainless steel, and galvanized chimney caps in a large variety of standard and custom sizes. If you currently have a critter living rent-free in your chimney, we can easily install a chimney cap as soon as they have been safely removed.
Black Goose Chimney is Here to Help
If you suspect an animal living in your chimney, give Black Goose Chimney a call for animal removal. Our technicians will come out and provide you with a full update of your situation, and let you know what options you may have. Please call our office at (757) 596-2298 or send us a message through our online form.
Black Goose Chimney brings 21st-century technology to a century-old trade with extensive experience and state of the art tools. Our training and dedication to excellence makes Black Goose Chimney the company you want when credentials and quality count!
All of our lead sweepers are nationally certified by the Chimney Safety Institute of America (CSIA) for chimney sweeping and Certified Dryer Exhaust Technicians [C-DET]. We feel it is essential to continuously educate ourselves in this growing field, that is currently unregulated by the state which includes animal removal.
If you ever hear scratching, squeaking, or chirping around your fireplace you may have an animal stuck in your chimney. This is potentially dangerous for you and for the animal if not dealt with quickly. Animals may have nests in your chimney that can quickly alight and cause a fire in your flue. For this reason and the safety of the animal, they must be removed as quickly and humanely as possible. At Black Goose we use care and precision when we are removing animals from your chimney.
Prevention
Keeping pests out of your chimney is as easy as installing a chimney cap. This cover for the top of your chimney is often the first line defense against Raccoons, Squirrels, and Birds. It is also useful in keeping debris out of your flue in fall and spring.
Raccoons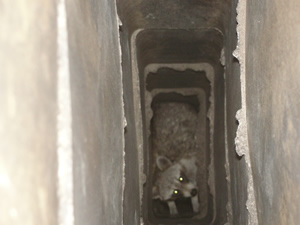 Raccoons like to make a home on the smoke shelf in masonry fireplaces. If your chimney is not capped they can easily maneuver into the chimney to have their babies. Raccoons carry rabies, roundworms, fleas and lice. Mama raccoons are very dangerous and must be out of the area before we remove any babies. Mama Raccoon can open most any damper, except for rotary screw type Vestal dampers, and even then she can often still move the damper. Most raccoons can be forced out of the flue, by pushing them with a rod with a half moon tool attached to it. Babies are often too young to climb out on their own and must be physically removed. When our leads remove the babies they will wear heavy gloves so they do not leave their scent on the babies and they will place them in a bucket or box so that Mama Raccoon can come and get them.
Squirrels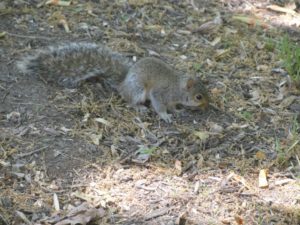 Squirrels can often be removed by dropping a rope down the flue and securing it to the top of the chimney casing. Sometimes it is necessary to physically remove them.
Birds
If you have a prefabricated fireplace it is possible for a bird to be stuck in between the pipes. If this is the case the only way for us to remove the bird is to remove the siding of the exterior chimney in order to access the pipe, which will have to be unattached from the top down and then reconnected.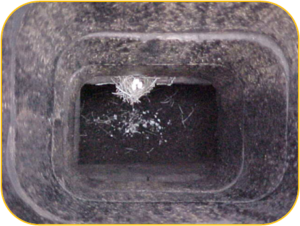 The only bird that we cannot remove from a flue is the chimney swift. They are a federally protected species. For more information on chimney swifts please visit www.chimneyswift.org.