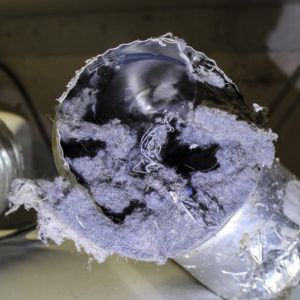 When was the last time you had your dryer vent swept? Lint and debris can build up in your dryer vent, chocking the exhaust airflow and kill the heat efficiency of the appliance. This will make your dryer less energy-efficient, extend the time needed for clothes to dry, and put your home at risk for fire. Debris caught in dryer vents are responsible for approximately 15,600 structure fires, 15 deaths and 400 injuries annually according to the US Fire Administration.
So we know having a clogged dryer vent is dangerous. How can you tell if your vent is clogged? You can perform a visual inspection by moving the dryer and looking at the vent, or you can measure it by the efficiency of your dryer. If your clothes take more than one cycle to dry, it is an indication that your dryer vent may be clogged.
A professional service company can take a reading at the vent termination where it exits the home. By using a vane anemometer, the temperature and airflow speed can be documented. If the duct needs sweeping, the sweeping is completed and another reading is taken to check the numbers.  This will give you a "before and after" comparison.  The "after" numbers will also serve as a baseline for any future evaluations.
If your dryer is clogged, the simple act of having your dryer vent swept inspected regularly will ensure the system is working optimally. The Chimney Safety Institute of America recommends that CSIA Certified Dryer Exhaust Technicians perform exhaust duct inspections on an annual basis to ensure efficient operation of your clothes dryer system. Black Goose Chimney is proud to be C-DET certified and can ensure that your system is working at peak performance.

Black Goose Chimney is also running a promotion from now through October for $10 off your next dryer vent sweeping and $20 off an NFPA Level II Inspection so you can stay safe and save money! Call 757-596-2298 to schedule your sweep today!