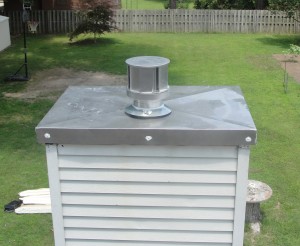 Understanding the difference between a chimney cap and a chimney chase cover can be confusing as people sometimes use different terminology.  We frequently receive calls from people complaining of rusty stains on the sides of their chimney, after asking a few questions it's usually clear that the problem isn't the chimney cap, it's the chimney chase cover.  Chase covers (sometimes called top pans) are found on pre-fab or factory built fireplaces which became common in the late 70s and early 80s.  A chimney cap is the piece that seals the flue system to prevent birds and other animals from getting into the chimney.  A cap is attached to the chase cover in the case of prefab chimneys, and is attached directly to the brick of masonry chimneys.
A chase cover is a metal cover that fits over your chimney chase (on chimneys with wood, metal, or vinyl siding) to prevent water from entering the chimney.  It's very important that the chase cover is installed properly so that water runs off the chase cover.  If the chase cover is flat water can accumulate and cause rust which can result in a leaky chase cover.  Galvanized sheet metal chase covers rust more quickly than stainless steel chase covers, but even stainless steel can break down over time depending on the environmental conditions.  Sadly for our Virginia Beach customers, salt air is particularly corrosive to stainless steel.
Black Goose Chimney offers shop-formed replacement chase covers in a variety of materials including galvanized metal and stainless steel .  We find that chase covers made in a local sheet metal shop to our specifications based on your chimney measurements are better fit than covers that are made on the spot.  If you or someone you know has rust stains on their chimney siding, give us a call at 757-596-2298!