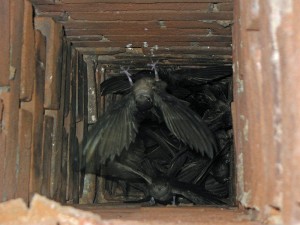 It's that time of year!  The Chimney Swifts are migrating from their winter grounds in Peru, Columbia, and Northwestern Brazil to their mating and summer hunting grounds in the Eastern US.  Chimney Swifts usually arrive in the Mid-Atlantic between the last week of March and the second week in April, which means right now they're looking for hospitable chimneys in which to build their nests.
If your chimney isn't capped you're running the risk of playing host to a Swift family this year.  As they're a protected species under the Migratory Bird Act of 1918 it is illegal to remove or disturb their nests, so prevention is key.  Their droppings can create a real mess in your chimney and can even cause health problems such as histoplasmosis.  While Chimney Swifts are a major nuisance when they're in a chimney, they are fascinating and useful birds.  They eat many airborne insects including wasps, ants, mayflies, stoneflies, beetles, caddisflies, fleas, craneflies, and others, which given the buggy summers we've had recently a family of Chimney Swifts could be welcome help in controlling the backyard bug population.  If you're interested in hosting Swifts outside of your chimney, you can find directions for constructing a Chimney Swift Tower here.
Call Black Goose at 757-596-2298 if you need your chimney capped!