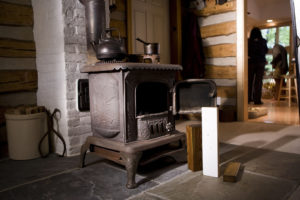 Learning to cook on a wood stove is smart for survival type situations, such as power outages, but you can cook on one even when you have power. It's extremely frugal to cook on a wood stove as it can save you on gas or electric usage. If you're already using your wood stove for heat, using it as a cooking source is doubling your resources!
Here's some tips for cooking on a wood stove:
Have an established fire. You'll want to have your fire started and burning before you begin cooking. The surface of your wood stove should be heated and have a good source of coals inside. If you need the surface to be hot for frying meat, go ahead and open the draft.
Use cast iron cook ware. Cast iron does not retain hot spots, plus it conducts heat. Cast iron can also withstand higher temperatures than most other cookware, making it one of the safer options. If you're looking for a piece of suitable cookware, Amazon offers plenty of pieces that should work just fine.
Plan your time accordingly. Cooking on a wood stove takes longer than cooking on a gas or electric stove. It takes about the same as using a slow cooker. Give your food enough time to cook. However, if you get it hot enough, the frying time should be about the same. Usually, it will heat up the house too much to keep it at this high of a temperature to cook the entire casserole, soup, or dish.
Know your temperatures. The main part of your wood stove top will be the hottest. You can use canning rings to lift your pot up from the heat. The upper shelf of our wood stove is cooler. After I've browned the meat or gotten things to a boil, I move the pot to the upper shelf to stay at a simmer. The main cooking area of our wood stove measured at 250 degrees, which is in the average between the low and high setting on most slow cookers.
Watch your food. Keep an eye on how fast or slow your food is cooking. Too fast, turn down your drafts and move the food to a cooler area of the stove top. Too slow, open up your drafts and add more wood to the fire.
Have fun! Cooking on the wood stove is fun. You can bake bread in a cast iron Dutch oven, rolls, biscuits, and of course, stews, soups, chili, roasts, and even casseroles.
If you have any questions about cooking on an open flame within your home, don't hesitate to call Black Goose Chimney!