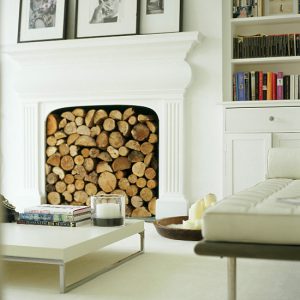 A fireplace is a natural focal point in any room of the house, and though it goes mostly unused for the summer months, it can still add value to your home in other ways. These simple DIY tips will help keep your fireplace fresh all summer long.
Decorate your fireplace:
Decorating your fireplace can be a very fun and creating endeavor and is usually pretty easy to do if you have the materials. If you don't you can always go to your local crafting store to execute some of these ideas:
–If you enjoy the comfort and majestic nature of watching flames within your fireplace, you can clean out the firebox and fill it with candles or an ornate candelabrum. Fill your home with summer-time smells by choosing scented candles that match the season.
–A simple way to give your living room a rustic feel, and simultaneously store some firewood, is to cut a portion of your logs to the same length and then fill the entire firebox by stacking them with the cut edge facing into the room.
–Bring plants inside and put them on your hearth, mantel, in your firebox, around the fireplace and on the wall above it. Ok, maybe don't go too crazy with it, but you get the idea. You can turn your fireplace into an enormous and intricate vase-substitute to house plants that fit your homes style, and the season. Flowers can also help add a pop of color to your room.
–Make a creative cover for your fireplace. If you do not plan to use the unit at all, you can get pretty creative with wood-based covers made from pallet-board, leftover wood, old furniture like antique doors or windows. Or if you like an industrial look you use sheet metal beant and cut to nearly any configuration. Use the cover to represent you and your family.
Enjoy your fireplace in a whole new way this summer, and don't forget to get a jump on scheduling your annual inspection by a professional chimney sweep from Black Goose Chimney.