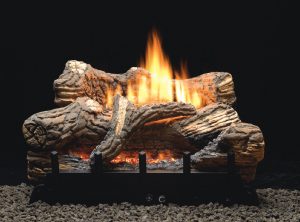 As professional chimney sweeps, we at Black Goose Chimney are particularly fond for natural wood burning fireplaces. But we also offer a variety of gas log fireplaces and direct vent gas stove inserts for your heating needs.
Why Gas Logs?
Gas logs offer a clean and simple alternative to a wood burning fireplace. Instead of chopping wood and storing your stockpile out in the cold, you can flip a switch to have a warm and romantic fire burning in your fireplace. No stacking logs, no lighting and setting tinder, and no ash to clean afterward! Overall, a gas log fireplace offers a simple and easy way to enjoy heating in your home.
Vented vs Vent-Free Gas Logs
Vented Gas Logs – Vented gas fireplace logs provide a more realistic flame pattern than vent-free (ventless) gas logs, with higher flames that wrap around the logs like a real fire. This gives your fireplace more ambiance and charm. Vented gas logs require no carbon monoxide detector, unlike their vent-free counterparts. On the other hand, vented gas logs require you to have a vented fireplace, and to keep the flue open when using them. This means 85-90% of the heat that they produce goes right up the chimney.
Vent-Free Gas Logs – Ventless gas fireplace logs are a more efficient heating source. Although they should not be used to heat your entire home, they are a cost-effective and beautiful solution for heating a small room that your central heating system may not be reaching. Vent-free gas logs are much easier to install than vented logs, since they require no flue or damper. Since these are not vented, you will need to install a carbon monoxide detector to insure that CO levels do not become too high. You will also need to purchase an Oxygen Depletion Sensor (ODS) System, which will automatically shut off the gas if the oxygen level gets too low in the room.
Fuel Facts
The fuels most commonly used for gas log fireplaces are natural gas and propane. And if you currently have either of these fuel sources, the decision will be pretty easy. If you live in a fairly urbanized area, then natural gas is likely available and ready for use at your home.  Natural gas is much cheaper than propane, although it does not burn as hot.
If you live in more rural parts of the country, natural gas may not be available in your area. Propane is a more expensive but viable option for your situation. Technicians will install a tank on your property and can regularly fill it if needed.
Fuel cost can fluctuate wildly at different times of the year, be sure to research the market averages before making the decision if you currently do not have propane or natural gas options.
Installation
If you are interested in purchasing, installing, inspecting, or repairing a gas log fireplace, call Black Goose Chimney! Our certified professionals will measure the designated area and walk you through the entire installation process! Call us at 757-596-2298 today!