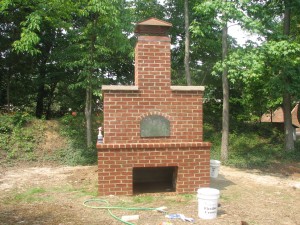 Did you know that Black Goose does more than sweep chimneys?  In addition to cleaning dryer vents, removing wild animals from chimneys, and doing historic restoration work, we can build you the outdoor oven of your dreams!  You've likely seen these beautiful and unique ovens in magazines or on Pinterest.  But how much do you know about them? Here are a few fun facts that may help you decide if  a backyard oven is right for you:
-Bringing the oven to temp (which for pizzas is around 800°F) will take two to three hours (longer, if you use the oven only infrequently).
-You can cook so much more than pizza.  While the oven is heating, you can make dishes that require less heat, and as the oven cools, you can cook steaks, pies, bread, and even slow roast a pork shoulder or brisket.
-They do consume quite a bit of wood, so it's important to have a good supply of well-seasoned wood in the right size on hand.
If you're interested in adding a wood burning oven to your backyard, call Black Goose at 757-596-2298 for a consultation.  We can help you with the design, placement, and construction.  The cooking is up to you!