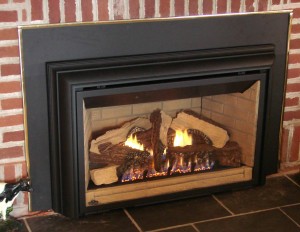 Need another reason to have your fireplace and chimney inspected by a certified professional?  Improperly installed fireplaces or wood stoves can cause pyrolysis of the wood in the floor or walls around the appliance.  Pyrolysis is a chemical reaction in which organic material (in this case, wood) decomposes due to extended exposure to heat.  Once this occurs, the chemical composition of the wood changes and becomes more volatile, making it susceptible to combustion.
Wood doesn't ordinarily combust (burn) below a temperature of 400 degrees Fahrenheit, but wood that is affected by pyrolysis can combust at temperatures as low as 200 degrees.  Wood affected by pyrolysis usually isn't visibly different in any way, and the transformation can take decades to occur.
The recent fire at the home of Carolina Panther's coach, Ron Rivera, which caused $500,000 worth of damage, appears to have been caused by pyrolysis due to an improperly installed fireplace. According to fire investigators, the pre-fab gas fireplace had been installed directly on top of the wood subfloor without the required heat-shielding baseplate.  The fireplace had also developed a hairline crack which allowed more heat to come in contact with the wood subfloor over time.  These factors, combined with the appliance being on for several hours that day, resulted in a major fire.  Thankfully everyone in the house at the time, as well as their pets escaped safely.
Pyrolysis can be caused by wood stoves, masonry fireplaces, pre-fab gas fireplaces, or anything that produces temperatures over 200 degrees for any length of time.  Any appliance that produces a flame must have proper distances and insulation from potentially combustible materials.  Furthermore, it's vitally important to have chimneys, fireplaces, and stoves inspected on a regular basis to ensure that any cracks that develop are spotted early.
If you have questions or concerns about the potential of pyrolyzed wood in your home, call us at 747-596-2298.