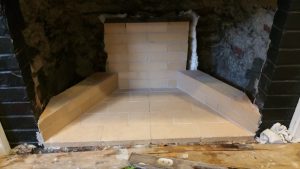 Rumford fireplaces were common from 1796, when Count Rumford first wrote about them, until about 1850. Jefferson had them built at Monticello, and Thoreau listed them among the modern conveniences that everyone took for granted.
Rumford fireplaces are tall and shallow to reflect more heat, and they have streamlined throats to eliminate turbulence and carry away the smoke with little loss of heated room air.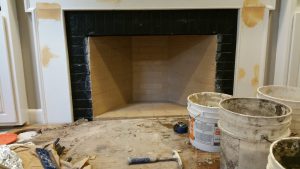 Rumford applied his knowledge of heat to the improvement of fireplaces in the 1790s. He made them smaller and shallower with widely angled covings so they would radiate better. And he streamlined the throat, or in his words "rounded off the breast" so as to "remove those local hindrances which forcibly prevent the smoke from following its natural tendency to go up the chimney…"
Many fashionable London houses were modified to his instructions, and became smoke-free as well as more efficient. Thompson became a celebrity when news of his success became widespread. In an age when fires were the principal source of heat, this simple alteration in the design of fireplaces was copied widely.
Black Goose Chimney can install or repair historically accurate rumford fireplaces in your home! Call today to schedule an appointment.