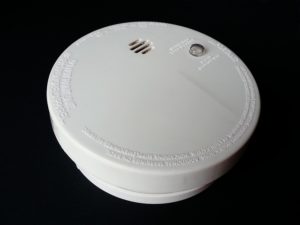 Using a chimney during the winter months can really put you in the holiday spirit, there is something about coming together around a warm fire that encourages conversation and community. However, the increased use of your chimney during the holidays comes with a few necessary safety precautions! One of those is ensuring that your smoke detectors are functioning properly.
Smoke detectors and fire alarms may be some of the most important items in your home when it comes to your family's safety. These early warning devices may help alert your family to fire and dangerous smoke while there is still time to evacuate, but they need to be periodically tested to help ensure proper function.
Electronic devices are not infallible. Batteries die, and other parts of the smoke detector can wear out over time. Testing them regularly and replacing batteries (or the entire device) is one way to help ensure your family stays safe should there be a fire in your home.
According to the U.S. Fire Administration (USFA), smoke detectors should be tested at least once a month and batteries should be replaced at least once or twice a year. A good way to remember to do this is to change your batteries when you change your clocks for daylight saving time — when you spring forward or fall back.
To learn more about chimney safety, repair, and other aspects of the largest appliance in your home, stay in touch with Black Goose Chimney!